Suzy Williams: Enjoy the Ride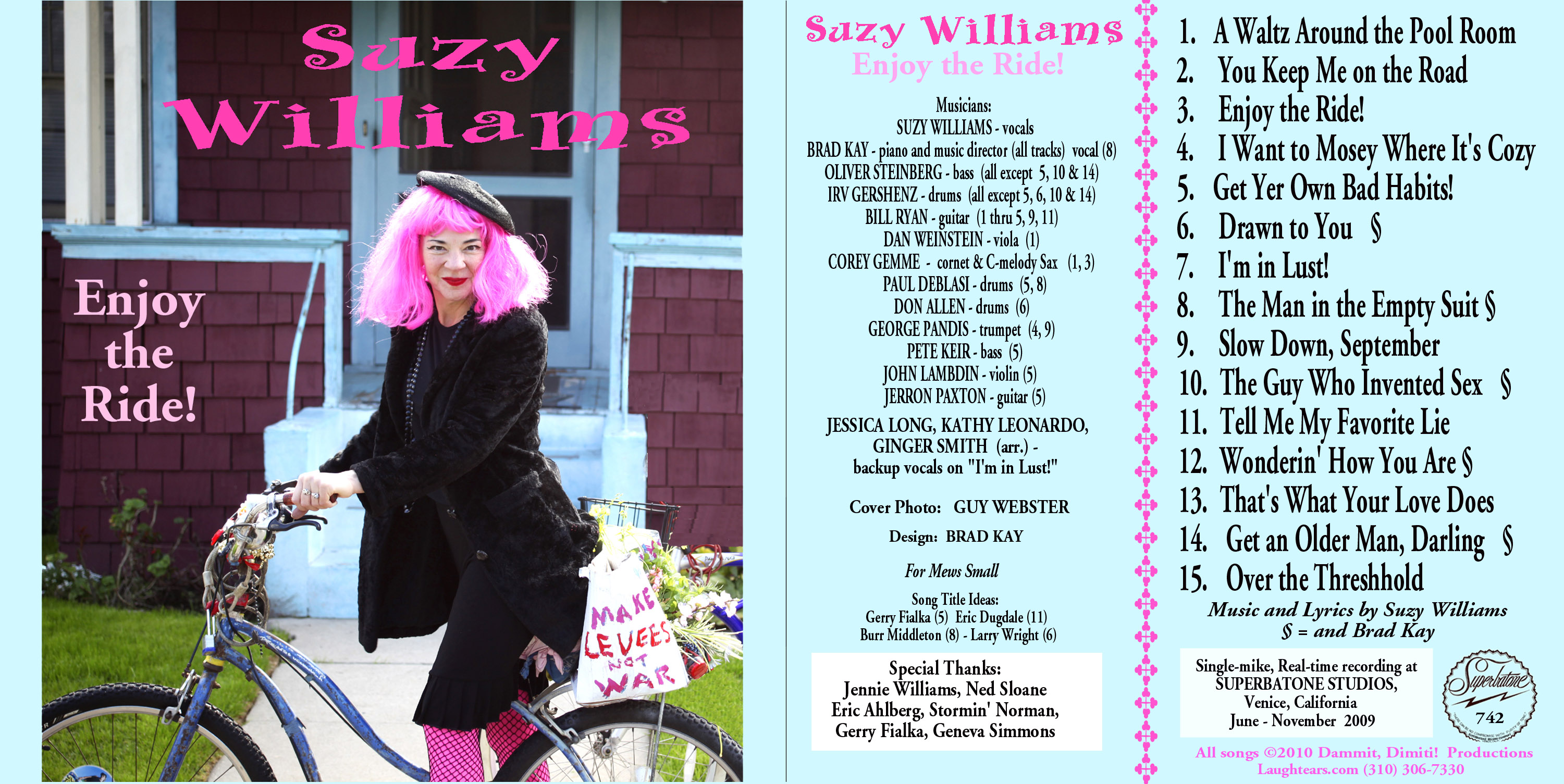 Suzy Williams
Enjoy the Ride
Superbatone
2010
The sprawling landscape of Southern California plays home to numerous pockets of creative regional artists. On LA's westside, Venice, a long time artists' enclave, once a backdrop for Charlie Chaplin and Buster Keaton, continues its fierce resistance to gentrification, while nurturing independent visionaries of all stripes. The release of singer Suzy Williams' warm and beautiful
Enjoy the Ride
shines a light on a group of rarely recorded but broadly gifted musicians keeping the jazz light burning in this colorful coastal town.
Williams recorded the disc like a Library of Congress hotel room field recording of the 1930s, live on a single microphone in music director Brad Kay's living room—a cluttered and cozy museum/warehouse of Edison rolls, piano rolls, a player piano, a baby grand and vintage theatre bills, permeated by the fragrance of another time.
As a long time saloon singer, smart and brassy, Williams even seduced jazz jade
Nat Hentoff
's weary ear. As recently as 2008, someone suggested she try her hand at composing, and songs have poured out of her since. On
Enjoy the Ride
, 15 appear, as enjoyable a ride as you're likely to find.
Williams the singer works in a variety of formats, including intimate lounge duets, bone jarring swing bands, tight harmonied pop groups and anything else she cares to tackle. On
Enjoy the Ride
, Williams the songwriter occupies a vortex of Americana, suggesting conventions of one era or another and ultimately rendering her music stylistically timeless with its unselfconscious modernity. Like Dan Hicks, or R. Crumb. And like these artists, Williams readily plays the humor card in her narratives, without diminishing her broader emotional point.
Melodically, "A Waltz Around the Pool Room," with its aching ostinato, could have been sung in William McKinley's White House, while Big Bill strutted the Main Hall and his handlers looted the treasury. The viola, saxophone and piano gives the arrangement a chamber music feel, while the lyrics look for luck from the window of a dive. Williams' character dances the listener through the fantasy, her voice longing and wistful as Dan Weinstein's viola solo. A driving-through-life metaphor sung to a walking rhythm, "You Keep Me On the Road" features the nimble and imaginative Bill Ryan on guitar with a suitably laconic solo and neat interplay with Kay. Irv Gershenz whispers brushwork on the snare.
Corey Gemme's delightful muted trumpet solo launches the title track with a buoyancy that Williams taps as she sings the praises of various vehicles, deciding, "It may not be your high ideal/But it could be worse/Just thank your lucky stars you ain't/Traveling by hearse." Kay and company feel the joy, with Ryan adding a chorded solo.
George Pandis takes over the muted trumpet chores on, "I Want to Mosey Where It's Cozy," going bluesy and seductive like the lady herself. Ryan parlays a single note blues solo into an orchestrated coda. A preaching blues, "Get Your Own Bad Habits," opens with Kay's deliberate chording and Ryan's fluent guitar stylings. John Lambdin adds soulful violin ornaments and the expanded ensemble fuels Williams' dramatic interpretation.
Drawing on a famous line by Jessica Rabbit, "Drawn to You" allows a romp by Kay and some loose scat from Williams. "Like blood to physicians/Bunnies to magicians," she sings earnestly. "I'm In Lust," features Ginger Smith's bright vocal arrangement. On "Man in the Empty Suit," Brad Kay's 1940s hipster pickup narrative (with apologies to vocalist and guitarist
Slim Gaillard
and bassist
Slam Stewart
) and snappy piano introduces Williams' openly gold-digger intentions. Ryan's thick octave work decorates the ballad, "Slow Down, September," giving Williams the right cloudy day feel. Gershanz keeps a hiss in his brushwork, and Kay's descending phrases fall like rain.
Kay embraces ragtime vaudeville stylings to introduce and maintain the clever novelty tune, "The Guy Who Invented Sex." "I want to meet the guy who invented sex/And ask him what he's working on now," Williams melodically muses to Kay's arch accompaniment.
Greshanz, Kay, and Steinberg get a fine trio swing on "Tell Me My Favorite Lie," Steinberg shouldering the momentum. Kay bubbles all over the keyboard, but Williams maintains the focus. On "Wonderin How You Are," Williams writes a practical list poem of personal concerns that creates a caring characterization she delivers with an inviting warmth. Kay delivers an airy, inquisitive solo.
"That's What Your Love Does" offers a breezy trio accompaniment to Williams' jaunty vocal. Kay's clever solo includes Williams unselfconsciously vocalizing in the background. The melodically priceless "Over the Threshold" ends the set with a soulful ballad. Gershenz and Steinberg anchor Kay's unhurried cascades, as Williams loving guides the listener around the inventive tune.
Williams and company step up to deliver a lyrically bright/musically enticing collection that sounds as good in the car as it does in a bar. And yes, analogue though it may be, it sounds elegant on an iPod.
Tracks: A Waltz Around the Pool Room; You Keep Me on the Road; Enjoy the Ride!; I Want to Mosey Where It's Cozy; Get Yer Own Bad Habits; Drawn to You; I'm In Lust; The Man in the Empty Suit; Slow Down September; The Guy Who Invented Sex; Tell Me My Favorite Lie; Wonderin' How You Are; That's What Your Love Does; Get an Older Man, Darling; Over the Threshold.
Personnel: Suzy Williams: vocals; Brad Kay: piano, music director, vocal (8); Oliver Steinberg: bass (1-4, 6-9, 11-13, 15); Irv Gershenz: drums (1-4, 6-9, 11-13, 15; Bill Ryan: guitar (1-5, 9, 11); Dan Weinstein: viola (1); Corey Gemme: cornet (1), C-melody sax (3); Paul Deblasi: drums (5, 8); Don Allen: drums (6); George Pandis: trumpet (4, 9); Pete Keir: bass (5); John Lambdin: violin (5); Jessica Long, Kathy Leonardo, Ginger Smith: backup vocals (7).