"Bagel on the Malecon" by Lev "Ljova" Zhurbin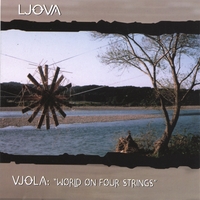 From
VJOLA: WORLD ON FOUR STRINGS (KAPUSTNIK RECORDS) by Lev "Ljova" Zhurbin
About
A very New York-bred outlook at old-time Cuban music, recorded entirely with .. violas! This was my attempt to create asymmetrical but memorable melodies, clear textures crammed with material, and experiment with multitrack viola as a concept, an ensemble. The sound of the classic Cuban bands had all that - except the violas, that is.
Broken link? Report it to us
This track appears by permission of contributing artist and/or record company.
It is for personal use only; no other rights are granted or implied.
Shop for jazz: